Includes Free Anti-scratch Coating Lenses
Anti-Reflective Coating: $4.95
UV Coating: $4.95
Super Hydrophobic (water resistant)coating: $9.95
Color Tint: $9.95
Gradient Tint: $12.95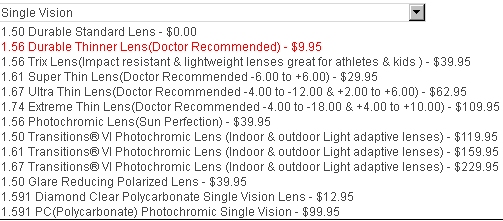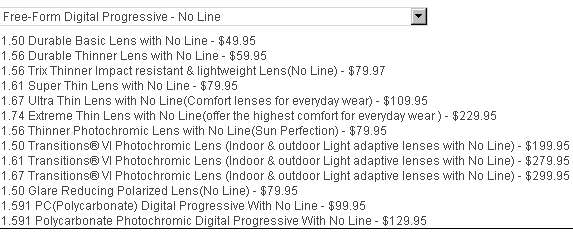 Shipping to Armenia $29.95 via DHL 6-20 working days after processing.
Available lenses index
We offer lenses with different index. The higher the prescription, the thinner and lighter the lens recommended.
Plastic Lenses (Standard Index 1.50)-Most suitable for Low prescriptions of SPH (0 to +/-2.0) and CYL (0 to +/-1.5).If your prescription is higher, we recommend that you upgrade your lens.)
Thinner Lenses (Middle Index 1.56)-Work with Low-to-moderate prescriptions of SPH (+/-2.0 to +/-4.0) and CYL (+/-1.5 to +/-2.0). If your prescription exceeds this range, we recommend upgrading your lens to another high-Index lens.
Super Thin Lenses (High Index 1.61)-Thin & Light lenses offer the best value for people who have moderate prescriptions and want a light lens.It is suitable for prescriptions of SPH(+/-4.0 to +/-6.0 ),CYL(+/-2.25 to +/-3.0).
Ultra Thin Lenses (High Index 1.67)- These lenses are great for people with moderate-to-high prescriptions. And are recommended of prescriptions of SPH (+/-6.0 to +/-9.0), CYL (+/-3.25 to +/-4.0) for the best results.


Extreme Thin Lenses (High Index 1.74)- The thinnest and lightest lenses available on the optical market.These lenses are recommended for prescriptions of SPH above +/-9.0, CYL above +/-4.25.

Trivex (Middle index 1.56)- Trivex lenses are premium quality high impact resistance lenses with full UV protection, special strong anti-scratch coating.Trivex lenses give you all the performance you need: durability, UV protection, lightweight comfort and crisp clear vision.

Diamond Clear Polycarbonate (High Index 1.61) – Polycarbonate lenses are unique. They are stronger than the other lenses but is more prone to scratching and cannot be tinted or thinned. And they have the similar features as the Trives lenses using during sports.

Polarized Lenses (Index 1.50) – Polarized lenses are used in sunglasses to reduce glare from reflective surfaces such as the surface of a lake or the hood of a car. They accomplish this feat through a process called polarization, much like a venetian blind controls sunlight through a window.